How do I Adjust Check Alignment?
---
Due to differences in printers, check formatting, and other reasons, the text alignment for your pre-printed checks may need to be adjusted. In some cases when printing multiple checks, each check consecutively gets lower or higher. We have a solution for this.
This Step-by-Step tutorial guides you through adjusting the check alignment for an Accounts Payable check format. (The steps for changing the Payroll check format are the same except you choose "Pre-Printed Checks - Payroll" tab on step 3.)
•For a visual tutorial, see the Adjust Check Alignment

video.
•All video tutorials can be viewed from the Tutorials & Videos page.
1. From the Bank Account Management menu, select Modify -> Bank Account Information.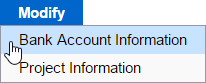 2. Click the Edit

icon next to the Bank Account that is having the problem.

3. Click on the Pre-printed Checks - AP tab.

4. Record the current settings. This can usually be accomplished by clicking the Print Screen button on your keyboard and then pasting the image into another application.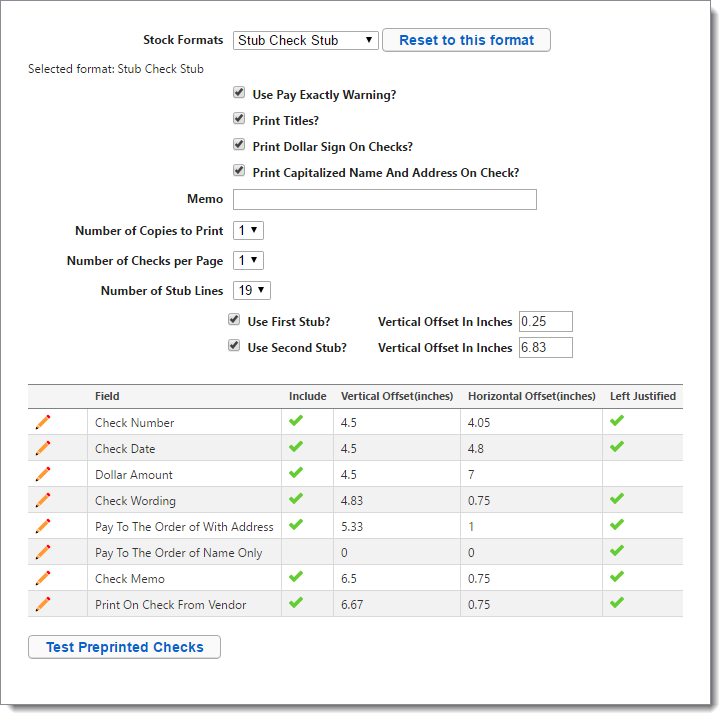 5. Next, verify that the correct Stock Format is selected on the drop-down list and then click the Reset to this format button.

6. After the format has been reset, click the Test Preprinted Check button.

7. Click the Print

icon to print the sample checks. Hold the sample checks up to a light (or a window if it is bright outside) and see if the text is lined up correctly. Or, use a ruler to measure the placement of specific fields.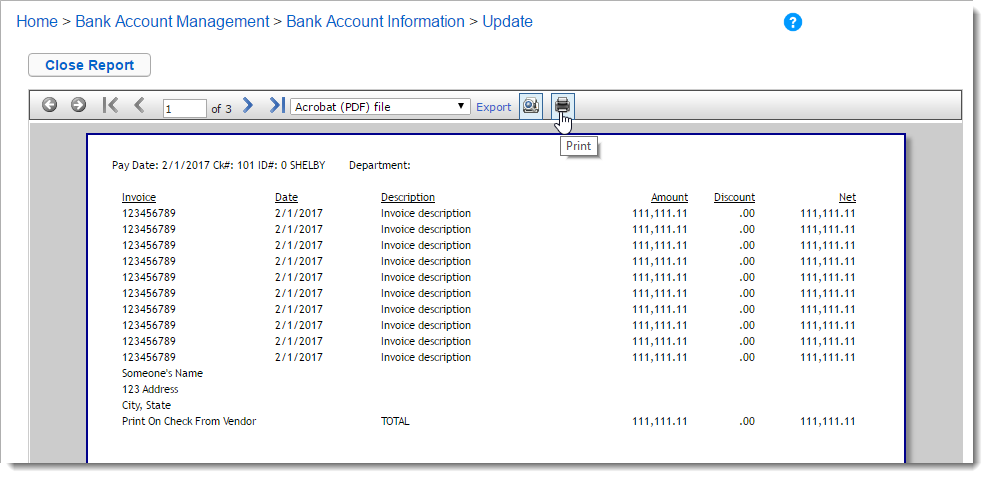 8. After noting any changes that need to be made, click the Close Report button.

9. If the text for each check is moving up or down on consecutive checks, try adjusting the Number of Stub Lines or one of the Vertical Offset fields (highlighted below).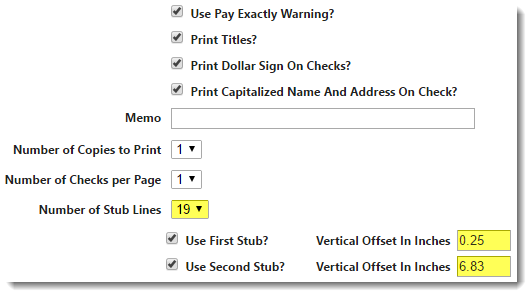 10. The placement of specific fields on the check can be modified using the grid at the bottom of this page. Let's say you want to move the Check Number to the left by 1/2 an inch. Click the Edit

icon on the Check Number row.

11. Change the Horizontal Offset to be ".5" inches less and then click the Update

icon to save your changes.

12. After making all your desired changes, click the Test Preprinted Checks button and repeat the process until the sample checks are lined up correctly.

13. When you are finished making all your changes, be sure to click the Update button to save your changes.
---
NOTE: You may want to make a screenshot of your new settings to keep as a reference.
---