---
The Account Structure List report allows you to print out the levels of your account structure.
This Section Includes:
---
NOTE: If you see a Filters tab with a Companies drop-down list, see General Ledger Plus for information on running reports.
---
On the Options tab select the Report Type:
•Structured: All levels are presented in a structured fashion displaying the breakdown by level. The Closing Account # column displays the default closing account number.

•Classic: All levels are presented in a columnar format.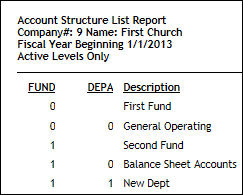 You can also select to Include Inactive Levels.
Click the Run Report button to generate a preview of the report.
•Click the Clear Preferences link to reset all of your report preferences to their default values.
•Click the Close Report button to return to the dashboard.
The report displays on the Report Preview page. Refer to the Report Preview help page for more information.