---
Manage Unposted Invoices allows you to create, edit, and save Accounts Receivable invoices.
This Help page contains the following sections:
---
There are two options available in the in Filters area: Revenue Centers and Users. Click the Search button to display results or the Clear Filters link to reset all filters.
---
The grid displays invoices matching the selected filters with the following columns:
•Customer
•Bill To
•Invoice #
•Invoice Date
•Due Date
•Revenue Center
•Amount
•ACH
•Note: Hover over the Note

icon to preview the note.
•Attach: Hover over the Attach

icon to see any notes on the attachment(s) and the filenames of attached files.
•Setup: Hover over the Information

icon to display user and time information for when the invoice was set up and last updated.
Double-click on an invoice or click the Edit

icon to edit an invoice in the grid. You can also click the Add New Invoice link to add a new invoice (More Information). Click the Delete

icon by an invoice in the grid to be prompted to delete that invoice.
---
Select the invoices you want to view and click the Invoice Edit Report button to display a preview of the Edit List of Invoices. Click Report Preferences on the blue bar above the report preview to select from the following options:
•Print Notes
•Print Setup Information
•Print Recap By Revenue Center
•Print Recap By Item
•Print Recap By Source
•Print Recap By Taxes
You can customize the sort order on the report by using your mouse to drag options horizontally between Available Options and Selected Options. You can also drag options vertically to re-order the Selected Options column. We recommend you drag items between the columns rather than using the ">>" and "<<" buttons since those buttons move all items.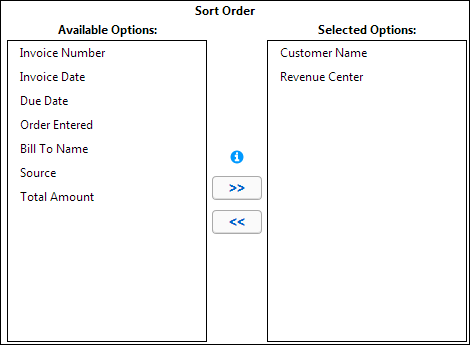 All detail for the selected invoices is displayed along with any selected recap options.
If you have changed the selected options click the Run Report button to display an updated report preview. You may also click the Clear Preferences link to reset all of your report preferences to their initial values. Once the preview displays you can navigate the pages, export to several formats (e.g., PDF, Excel, Word), and Print. Click the Close Report button to return to the Unposted Invoices page.
---
Posting your invoices allows them to be paid through Manage Payment Processing. Select the invoices you wish to post within the grid. You can also select the top box to select all invoices in the grid. Click the Post Invoices button to begin the posting process (More Information).
Compiled on 2/12/2019 11:04:11 AM