---
Modify Company Information allows you to add and/or edit your companies and related information.
This Section Includes:
The Company Information tab allows you to edit the details of the currently selected company. You may also click the Add New Company link to add a new company. You may select a different company by clicking its link on the right panel.
---
NOTE: Adding a new company makes it the currently selected company. If you wish to work in a different company, you need to click the change link after finalizing your new company set up (More Information).
---
| | |
| --- | --- |
| | Click the Delete icon by a company on the right panel to be prompted to remove that company. You can only remove companies with no activity. |
Enter the demographic information in the provided fields. Typing in the Postal Code populates the City and State. Enter the Federal Tax ID Number for your company.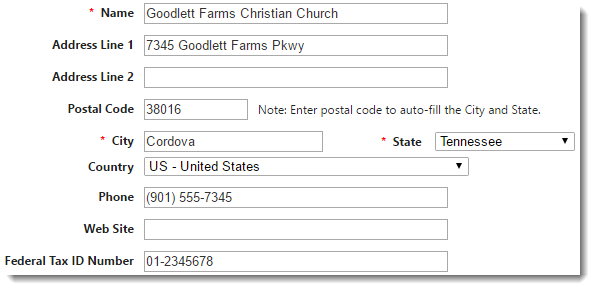 State eFile Number: The State eFile Number is used if your state requires a BEN (e.g., Iowa) for e-filing 1099s from Accounts Payable. If your state does not require a BEN for e-filing 1099s, leave this field empty.
The Default Year and Default Period are defaults for the Current Financial Settings. See the Current Financial Settings help page for more information. Select the Default Year and Default Period using the drop-down lists.
•Send Entry to Bank Account Management?: Select this option if you want a Bank Reconciliation Item created when a manual journal is posted.
•Create Separate Bank Items For Each Detail Line?: Select this option if you want to create a separate Bank Reconciliation Item for each bank account detail line when a manual journal is posted.
•Require the Posting Date and the Period to match on all Journals?: Select this option so that the program does not allow you to finalize a sub ledger until the posting date and period match. This also applies to manual journals. (A manual journal must have the journal date and all of the detail dates match the period.)

The Use Statement Type allows you to choose Net Assets or Capital. This changes the Account Type description from Capital (for profit) to Net Asset (nonprofit), and vice versa.
Enter any additional information about the company in the Note field.

Click the Update button to save all changes, the Reset link to undo all changes since the last time the page was updated, or the Cancel link to return to the main General Ledger page without saving.
(This feature is currently available to BETA customers only).
The following settings are used when integrating with Expensify to import payments. See Expensify Integration for more information.