The Workers Compensation report allows you to print information necessary for you to complete your Workers Compensation form. The report prints totals for each employee based on the user-defined codes that were entered on employee records.
This Help page contains the following sections:
On the Filters tab select the Check Date. Additional date filters may appear depending on what option you choose.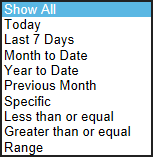 Select the Compensation Type you want to report on: Gross, Federal, or Social Security. You then have several options:
•Calculate Overtime And Double Time As Regular Time: Select this option if your workers compensation is based on regular rate even for overtime or double time hours.
•Include Overtime And Double Time Hours And Wages
•Exclude Time Off Hours: If you select this option use the drop-down list to select which time off hours to exclude.
•Separate Time Off Hours And Pay: If you select this option use the drop-down list to select which time off hours to separate.
Options
Select the Change Appearance? check box in order to change the font type and size. There is also a drop-down option to control the white space between the columns by a percentage.
On the Options tab select if you want to Print Social Security #.
Click the Run Report button to display a preview of your Workers Compensation Report. You may also click the Clear Preferences link to reset all of your report preferences to their initial values. Once the preview displays you can navigate the pages, export to several formats (e.g., PDF, Excel, Word), and Print. Click Report Preferences on the blue bar above the report preview to return to Report Preferences. When finished click the Close Report button to return to the main Payroll page.
Compiled on 1/24/2018 8:42:27 AM