---
The Apply Unapplied Cash utility allows you to apply unapplied cash to each customer that has unapplied cash on their record and print a report of what has been applied.
This Section Includes:
On the Filters tab select the Payment Date range from which you want to apply unapplied cash. Additional date filters may appear depending on what option you choose.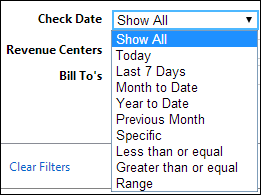 Select the Revenue Centers from which you wish to apply unapplied cash. You can also apply unapplied cash for specific Bill To's. On the Options tab you can also select to Print Setup Information and Print Address.
Click the Search button to display the Apply Unapplied Cash report. A negative amount in the Unapplied Cash column shows how the cash was applied.
You can navigate the pages, export to several formats (e.g., PDF, Excel, Word), and Print.
Edit the Posting Date if desired and then click the Finalize Post button which applies your unapplied cash and posts the detail to General Ledger.
---
NOTE: The Post Directly to General Ledger without Editing option allows you to have your journal entry posted all the way through to the General Ledger History so that it can be viewed on reports and on the View Posted Journals page within General Ledger. This allows you to skip having to edit and post the journal entry in the Manage Unposted Journals page in General Ledger.
---
If you do not wish to apply your unapplied cash click the Cancel link to return to the Accounts Receivable dashboard.