---
The Project Register report allows you to print transactions associated with projects within a specified period range.
This Section Includes:
•Projects: Select which (or all) projects you wish to print.
•Date: Select the time frame from which you want to view project transactions. Additional date filters may appear depending on what option you choose.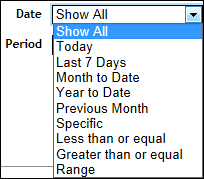 •Period: Select the period range within which you want to print project transactions. You can also select All Periods in both drop-down lists to print all transactions within the current year.
You can also select to Include All Companies. On the Options tab select to Sort By either Journal Date or Account #. Select the Change Appearance? check box in order to change the font type and size. There is also a drop-down option to control the white space between the columns by a percentage. If sorting by Account # you can Print Account Summary Only which displays a total for each account. There is also an option to Print Blank Line Between Detail Lines. The last option is to Show Max Total which displays the Max Total field from the project, the total of all entries entered against it, and the Difference.
| | |
| --- | --- |
| | Because using a project on income, liability, or capital account activity is considered a credit, these amounts increase the available Max Total. Using a project on expenses or assets is considered a debit and therefore decreases the available Max Total. The Difference is the Max Total minus all journal activity towards the project. |
The report includes the following columns for each transaction when not printing in summary format:
•Date
•Journal
•Account #: This column displays all levels along with the account number (e.g., 0-0-50830).
•Amount
•Description
•Period
At the bottom of the report the Total journal entries and GL Account Summary are displayed.
Click the Run Report button to generate a preview of the report.
•Click the Clear Preferences link to reset all of your report preferences to their default values.
•Click the Close Report button to return to the dashboard.
The report displays on the Report Preview page. Refer to the Report Preview help page for more information.