---
View Source Documents allows you to view source documents in PDF format that were created automatically when entries were sent from other applications to the General Ledger. This gives you a paperless trail in addition to your hard copies.
This Section Includes:
Select from the following Filters:
•Journal Types: Select which (or all) Journal Types to view.
•Journal Number: Selecting any option other than Show All displays field(s) so you can input the number(s).

•Date: Select the time frame from which to view source documents. Additional date filters may appear depending on what option you choose.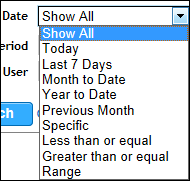 •Period: Select the periods from which to view source documents.
•User: Select all users or the specific users from which to view source documents.
Click the Search button to display source documents based on the filters you have selected or click the Clear Filters link to reset all filters.
The grid includes the following columns for each source document:
•Type
•Journal#
•Date
•Period
•User
•Description
•Posted: This column contains a check if the journal has been posted.
Click the View Details

icon on any row to display the source document PDF file. You can also select the source documents you want to export and click the Export Source Documents button. This prompts you to download a zip file containing all of the selected source document PDF files.