---
The Employee Labels report allows you to print out labels for your employees.
This Section Includes:
On the Filters tab there are several options:
•Employee
•Home Department
•Ethnic Group
•Employment Status
•Work Status
•Compensation
•Deduction
•Tax Table
•# Pay/Year
•Employee Note: This filter references the Note field in Employee Information.
•Classification
•Hire Date
•Termination Date
•Next Review Date
•Rehire Date
•Minister Date
---
NOTE: For all date filters select a date option. Additional date filters may appear depending on what option you choose.
---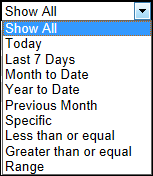 There is also an option for Specific Selection which causes the report to select employees that meet ALL of the specified criteria. When this option is blank employees meeting any specified criteria are selected.
On the Options tab choose your Label Options:
•Print In Post Office Format: This option causes your labels to display in all caps.
•Show Name Only: This option causes your labels to only display the name of the employee.
For Address Types select the address type to display from the drop-down list. Finally, select your Label Format. The dimensions for each label are given by the label type in the drop-down list.
Click the Run Report button to generate a preview of the report.
•Click the Clear Preferences link to reset all of your report preferences to their default values.
•Click the Close Report button to return to the dashboard.
The report displays on the Report Preview page. Refer to the Report Preview help page for more information.