---
The Deduction Information report allows you to print out the information set up in Modify Deduction Information.
This Section Includes:
Select All Deductions or Deductions with Distributions and then click the Run Report button.
For each compensation the following information is displayed:
•Description (in gray bar)
•Subject to (tax) information
•Distributions with General Ledger account information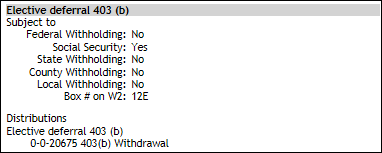 Click the Run Report button to generate a preview of the report.
•Click the Clear Preferences link to reset all of your report preferences to their default values.
•Click the Close Report button to return to the dashboard.
The report displays on the Report Preview page. Refer to the Report Preview help page for more information.