Similar to setting permissions on the Application tab of a security role, you can set permissions for the Check-In, Family Registration (Self-hosted only), Contributions, Mailing and Remittance Mailing click-once applications and Arena Hub.
Update Application Security
---
1. From the Administration menu, click the Application Security option located under the SECURITY heading.
2. Select the desired Application from the Application drop-down list.
3. Click the Edit Security button.
4. Select a Security Role or a Person.
5. Modify permissions. If using Security Roles, permissions update the Security Role.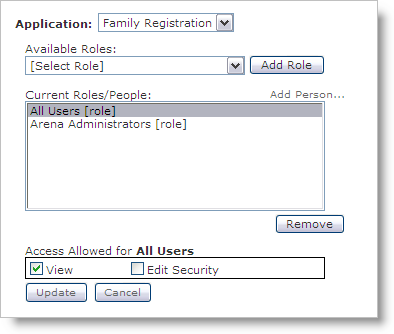 6. Click the Update button.