The Unapplied Cash List report allows you to print a list of unapplied cash.
This Help page contains the following sections:
On the Filters tab you have several options to narrow down your selections:
•Payment Date: Select the Payment Date range from which you want to view unapplied cash. Additional date filters may appear depending on what option you choose.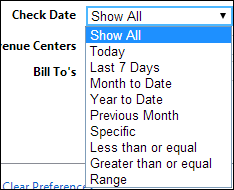 •Revenue Centers
•Bill To's
On the Options tab you can select to Print Setup Information and Print Address. For each Bill To there is a line for each payment that included unapplied cash with the following columns: Revenue Center, Check #, Payment Date, and Unapplied Cash. Each bill to also displays a Total and at the bottom of the report there is a Final Total of all unapplied cash.
Click the Run Report button to display a preview of your Sales Report. You may also click the Clear Preferences link to reset all of your report preferences to their initial values. Once the preview displays you can navigate the pages, export to several formats (e.g., PDF, Excel, Word), and Print. Click Report Preferences on the blue bar above the report preview to return to Report Preferences.
Click the Close Report button to return to the Accounts Receivable dashboard.
Compiled on 1/24/2018 8:42:27 AM