The Payment Reports allow you to print a list of payments by customers.
This Help page contains the following sections:
On the Filters tab select the Date range from which you want to view payments. Additional date filters may appear depending on what option you choose.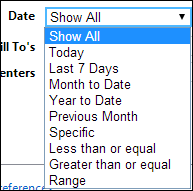 Select the Bill To's upon which you want to report (or select all). You can also select specific Revenue Centers. On the Options tab select your Report Options:
•List: For each Bill To each payment is displayed on its own row with columns for Date, Check #, Amount, and Note. Totals for each bill to along with a Final Total are also displayed on the report.
•Receipts: For each Bill To a Customer Payment Statement is displayed. Each payment is displayed on its own row with columns for Date, Check #, and Amount. A Total is also on each statement. Use the side-navigation links to easily preview any bill to's statement.
•Statement: This option prints a summary for each vendor on a separate page so that the item totals are displayed for each item description. This can be used for reporting childcare tax credits.
When printing a List, you can also select to Print Setup Information. When printing a Statement, you can also select the option to Print Federal Tax ID Number. This causes the Federal Tax ID Number to display on the statement below the company name and address.
Click the Run Report button to display a preview of your Payment Reports. You may also click the Clear Preferences link to reset all of your report preferences to their initial values. Once the preview displays you can navigate the pages, export to several formats (e.g., PDF, Excel, Word), and Print. Click Report Preferences on the blue bar above the report preview to return to Report Preferences.
Click the Close Report button to return to the Accounts Receivable dashboard.
Compiled on 1/24/2018 8:42:27 AM