---
The Bank Reconciliation report allows you to print lists of your items based on parameters you select.
On the Filters tab select the Types of items you want to display on the report:
•All
•Checks
•Voids
•Deposits
•Withdrawals
•Electronic Fund Transfers
Select to View either All Items, Outstanding Items, or Canceled Items. There are two optional filters where you can input the Begin Date and End Date for the Transaction Date(s) range. You can also select a Period when viewing All Items and a Statement Date(s) range when viewing Canceled Items.
On the Options tab you can customize the Report Name. If you are running an Outstanding Items or Canceled Items report you can also select to Include Summary At The Top. This shows totals for Opening Balance, Deposits, Checks and Voids, Withdrawals, and Ending Balance at the top of the report.
You can customize what columns display and how you want the report to be sorted by using your mouse to drag options horizontally between Available Options and Selected Options for both Report Options and Sort Order. You can also drag options vertically to re-order the Selected Options columns. We recommend you drag items between the columns rather than using the ">>" and "<<" buttons since those buttons move all items.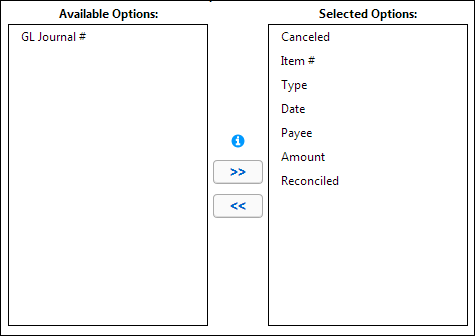 Click the Run Report button to generate a preview of the report.
•Click the Clear Preferences link to reset all of your report preferences to their default values.
•Click the Close Report button to return to the dashboard.
The report displays on the Report Preview page. Refer to the Report Preview help page for more information.