---
The Cash Requirements Report report allows you to view a report of selected payments. For each transaction all detail is displayed along with totals for selected transactions. Click Report Preferences on the blue bar above the report preview to access options for the report. You can customize the Report Name and select the Report Options:
•Selected for Payment: Displays the invoices you have selected to pay.
•Not Selected for Payment: Displays invoices you have not selected to pay.
•All Unpaid Invoices: Displays all unpaid invoices.
You can also select the Additional Information to print: Print Notes and Print Setup Information. Select to Sort By either Invoice Date and Vendor, Due Date and Vendor, or Vendor and Due Date.
You can customize what appears on the report by using your mouse to drag options horizontally between Available Options and Selected Options. You can also drag options vertically to re-order the Selected Options column. We recommend you drag items between the columns rather than using the ">>" and "<<" buttons since those buttons move all items.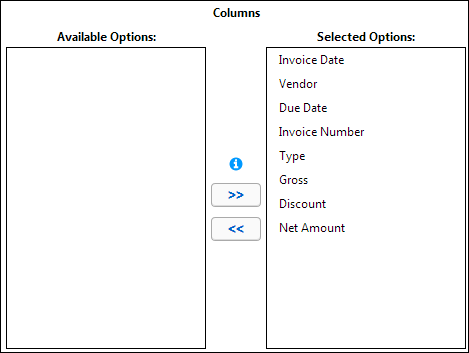 If you have changed the selected options click the Run Report button to display an updated report preview. You may also click the Clear Preferences link to reset all of your report preferences to their initial values. Once the preview displays you can navigate the pages, export to several formats (e.g., PDF, Excel, Word), and Print. Click Report Preferences on the blue bar above the report preview to return to Report Preferences. Click the Close Report button when finished to return to the Payment Processing page.