Report Registration connects a report from Reporting Services to specific List types. Before a report can be registered for use in Lists, it has to be created and in use by Reporting Services. (To view current registered reports, click on Reports in the appropriate section of Arena, or navigate to http://<reportservername>/Reports.)
Click on Report Registration to display a list of Reports currently registered within Arena for use with Lists. This list shows the Report Name, the Path, the Definition File name, and a Delete

icon. For installations, there are no reports registered. Not all reports work with lists.

Add a New Registered Report
---
1. Click the Add button.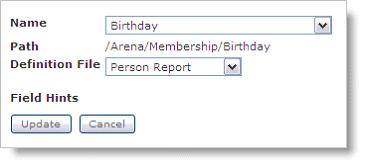 •Name – This drop-down list is all the reports that exist in Report Services.
•Path – This identifies the file path of the report.
•Definition File – This is the type of List.
2. Select an existing Report from the Name drop-down list.
3. Select a Definition File from the drop-down list.
4. Click the Update button.
5. Set security on the Report pop-up module on the Report Popup page.
6. Now the report is available to merge with a List.