Occurrences are attendance dates for events within Arena. Click the Occurrences link to view a list of occurrences recorded for this type. The Check-In kiosk application ONLY recognizes the occurrences that are open for specific dates.

---
NOTE: The Attendance column shows the number of individuals that are marked as attended or the head count entered on the occurrence details.
---
Manual Attendance
---
In order to take manual attendance, users need edit permission for the applicable module(s), generally found on page ID 1115.
1. From the Attendance tab of a Group or Tag, click the Add New Occurrence

icon. Arena creates a default occurrence for the current date.

2. Click the [New Occurrence] link to customize the occurrence.

3. Click the Edit Details button.
4. Customize the Occurrence.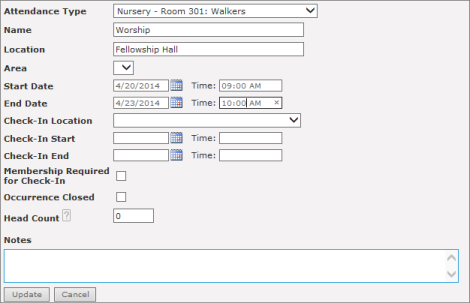 5. Verify the correct Attendance Type is selected for the occurrence.
6. Enter a Name for the occurrence.
7. Enter the Location for the occurrence.
8. Enter/Select the Start and End Dates for the occurrence
9. Enter the Start and End Times for the occurrence.
10. Click the Update button.

11. Mark attendance.